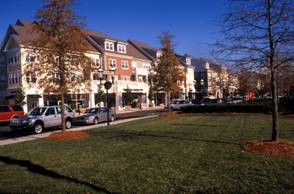 Birkdale Village, Huntersville, NC
Workshop
Reclaiming Commercial Strips and
Strengthening Town Centers
Workshop Description
This program describes and illustrates various re-development design strategies to create mixed-use centers from existing highway strips, to help communities implement smarter, more sustainable development patterns, and includes ideas for improving downtown economic viability and attractiveness.
The material presented is largely drawn from my upcoming book, Envisioning Better Communities: Seeing More Options, Making Wiser Choices,published by Planners' Press.
The 120-minute presentation (which can be adapted to fit time constraints) is generously illustrated with numerous successful examples and addresses the visual blight and land-use dysfunctionality of most highway commercial corridors and many downtowns. By adopting progressive site planning and design standards, cities and counties can prevent this kind of destructive development, which often spreads like a disfiguring disease along the regional road network.
Clients determine the degree of emphasis placed on reclaiming highway strips versus strengthening downtown centers, according to the needs of their audience.
This topic is of interest to professional planners, civic leaders, Planning Board/Commission members, landscape architects, engineers, commercial property owners and investors, and developers, who stand to benefit from the redevelopment and adaptive reuse of aging highway commercial corridors and downtowns into multi-use centers for the 21st century, as well as residents who care about the future economic vitality and livability of their community.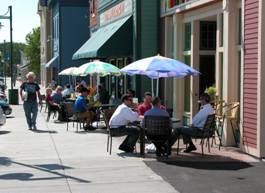 Pewaukee Town Center, Pewaukee, WI
The presentation includes:
Multiple strategies blending the twin disciplines of Conservation Design and New Urbanism for rebuilding highway corridors, gradually increasing functionality and attractiveness.
Fundamentals of Form-Based Zoning (to locate different building types appropriately, according to scale and massing), and Low Impact Development strategies (to reduce the negative effects of new construction, particularly involving stormwater infiltration).
These concepts offer significant opportunities for commercial and mixed-use redevelopment, particularly in areas with existing infrastructure, increasing the viability of businesses, service providers, and current/future public transit operators.
Insights into how downtowns can be made more economically viable and visually attractive, including examples of national chains and franchises that have adapted their designs to harmonize with community character and local building traditions rather than imposing standard corporate building models that homogenize community appearance produce results describable as "Anywhere, USA".
The workshop addresses the following specific topic areas, among others:
Replacing single-story, single-use, commercial buildings with

multi-story mixed-use development

, including residences
Integrating with existing or future

public transit

, such as bus routes and light rail lines running along these corridors ,whose length and linearity are a perfect match for these services

Creating internal streets

, using "Official Maps" to create networks of streets linking properties not only up and down the highway corridor, but also linking properties two or three tiers of ownership behind the frontage parcels, facilitating inter-parcel vehicular circulation
Establishing minimum height standards, (such as two stories in functional height) to encourage vertical integration of compatible mixed uses, such as retail and office, or rental residential
Setting maximum building setbacks from the highway, and

requiring internal parking behind the buildings

and/or within the development area
Ensuring the provision of

safe pedestrian walkways

through parking lots and along internal street

Providing opportunities for affordable housing

, above shops and offices, as was commonly done in downtowns before WWII, taking advantage of the same foundation and roof systems as provided for single-story construction

Designing around natural features

(streams, trees, knolls, rock outcrops, etc)

and around historic/cultural features

(farmhouses, barns, hedgerows, stone walls, etc.)

Planting shade trees extensively

along the highway, internal streets and pedestrian ways, and within internal parking areas, to increase attractiveness, user-friendliness, visitation frequency, and economic viability, in addition to cooling the temperature, cleansing the air, and soothing nerves

Calming traffic

through landscaped medians and roundabouts

Managing stormwater

to emphasize groundwater

infiltration and recharge

, through rain gardens and planting areas situated several inches below grade

Using native species in landscaping

, e.g., for shrubs and wildflowers, minimizing water requirements, and capturing the distinctive "spirit of the place"

Setting standards for signage

, emphasizing the smaller-scale "monument style" signs (rather than tall pole-mounted designs)

Requiring outdoor lighting to have vertical "cut-offs'"

to keep light rays directed downward, not outward or upward (preventing roadside glare, light trespass onto adjoining properties, or violation of dark-sky principles.
Because the typical design life of most buildings is 25 to 30 years, communities can position themselves now to guide the future replacement of existing structures, by working to articulate a vision, adopt plans, enact appropriate codes, and provide other incentives to help ensure the future creation of economically viable and aesthetically attractive corridors and downtowns to meet the multiple needs and challenges of local residents and business owners.
Hands-On Design Exercise: As a follow-up to thepowerpoint presentation, a participatory workshop (about 75 minutes long) is offered to provide attendees with an opportunity to learn first-hand how to retrofit an existing section of degraded commercial highway strip. Using an aerial photographic enlargement of a typical strip, participants mark up the base map with colored pencils to show how the kinds of improvements described and illustrated in the preceding presentation could be implemented in the typical example provided. When workshop participants have a chance to internalize what they have seen and heard during thepowerpoint, they gain a deeper understanding of the concepts involved, and always learn more.
Workshop Length: This workshop usually runs two hours for the illustrated program, 60-75 minutes for the design exercise, plus 30 minutes for discussion.
Bonus: Model ordinance language, in electronic form, will be provided free to participants, on request.
Comments from Workshop Sponsors
"Thanks for your energetic and inspiring presentation. It was truly what we needed, in order to jump start this project, and our guests left inspired. We look forward to working with you again!"
--Sally Wakefield, 1000 Friends of Minnesota
"I want to thank you for making the trip to Sioux Falls. As the only developer in the room, I took to heart the concepts you presented. We've had some lively debates since the conference, regarding changes we can make to our current practices. This year's conference could be a transformational moment in conservation and design in Sioux Falls."
-- Wade Behm, LEED-AP, Lloyd Companies, Sioux Falls, SD
"Thank you for your recent visit to Hickory. I greatly appreciate your efforts. Your presentation Reclaiming the Commercial Strip: Toward a More Sustainable Future for our Gateway Approaches was enthusiastically received. I have heard nothing but positive comments since the presentation.

Over 40 persons attended from three counties, including elected and appointed officials, Planning Commission members, planning staff, civic leaders, business persons, developers and local citizens.
It was a great 'kick-off" for our planned revisions to our future land-use plan and land --development code. The topics that you addressed were timely and quite pertinent to our current redevelopment and land use issues.
I greatly appreciate the additional hour that you spent addressing attendee's questions. It was a lively give and take session.
Thank you again for your time and the passion that you exhibited. The session was well-received and one that every municipality should hear."
--Brian Frazier, AICP, Planning Director, City of Hickory, NC
"I wanted to write County Planning a note of appreciation for its efforts in producing the Twice Green event in Lakeland. Randall Arendt is an outstanding speaker, and his topic of rural conservation design is timely. The program was well run, attendees were enthusiastic and engaging, and the hands-on planning exercise was informative. The event's value of 4.5 AICP credits was a bonus, as well as the door prizes (good idea). I am looking forward to my next project in Polk County and the opportunity to apply some of Mr. Arendt's planning principles."
--Erin Degutis, RLA, ASLA, AICP, URS Consultants, Tampa
"The East Central Florida Regional Planning Council hosted Randall Arendt's new seminar, Reclaiming the Commercial Strip January 29, 2009. With 190 advance reservations and 35 registrations at the door the attendance of was double initial expectations and a very good indication of the strong interest in the topic and Randall's star power as a speaker. He did not disappoint; the message was timely and accompanied by excellent graphics and photos that tell the story of how to begin the reclamation and reuse of commercial corridors. Since we were able to garner sponsors advance registrations cost only $10, a bargain for an AICP accredited presentation. Total net cost to our council will be less than $1000, a very good value."
--Phil Laurien, AICP, Executive Director, East Central Florida Regional Planning Council, Maitland
"Everyone loved your presentation and thought it was very informative, especially the graphic pictures – which really helped our local officials to visualize the concepts and prove they can be implemented! One person commented that you were very laid back and he appreciated the fact that you didn't preach to the group, and that you just shared your knowledge and experience in a way that informed and inspired."
--Jill Weyer, Senior Planner, Sullivan County Planning & Env. Mgmt., Monticello, NY
"You offered an excellent workshop and, as far as I can tell, there were a lot of happy people here on Friday. You gave us all a lot to think about. Your presentations were chock full of information—most participants couldn't keep up with their note-taking."
--Prof. Jack Sullivan, FASLA, Landscape Architecture Program,
University of Maryland, CollegePark, MD
"I really enjoyed your workshop on transforming the strip. I've always felt that the 'traditional' zoning methods have caused more harm than good, and have been a hindrance to good design. I hope that the local county staff members can take the workshop to heart and move away from the fossilized establishment to a better vision of redevelopment and a return to integrating of land uses, horizontally and vertically."
--Kevin Mack, RLA, ASLA, Dewberry Associates, Gaithersburg, MD
"Great job yesterday at the Lyceum. Sorry to have missed talking to you, but I couldn't get through the ring of your fans. I was wondering if you'd consider being a Keynote speaker at a national conference that we're holding this September. The National NEMO Network is now about 30 states strong. We think a talk focused on the topic of your new book would be perfect for this audience. They would really benefit by hearing your take on all this and seeing real examples from a real practitioner."
--Chester Arnold, Center for Land Use Education and Research, Nonpoint Education for Municipal Officials (NEMO) Program,
University of Connecticut Extension Service
"Thank you for returning to New Berlin and sharing your incredible insight and expertise. Your session Reclaiming the Strip was hugely successful and timely, and drew professionals from throughout Wisconsin. In addition, the City is in the process of updating its Comprehensive Plan and will be incorporating your principles related to sustainability and form-based concepts. The City has enjoyed its partnership with you over the years both in your assistance in updating our codes, and with the training that you have provided to community development staff, elected officials, and residents. Your most recent training session is certainly applicable to towns, villages and cities all across the country, and I would encourage any colleague of mine to invite you in to share your knowledge."
--Greg Kessler, AICP; Director of Community Development; New Berlin, WI
"The seminar was great, your presentations were inspiring, and the workshop was just lots of fun. The only downside was that your examples reminded just what a great place my community could be, if only it weren't so backward. So I left inspired but depressed."
--Bert Ray, AIA, Wimberley, TX
"Today was GREAT! I think I'm really a planner stuck in an engineer's body. I find all the stuff you went through today to be so interesting, and stimulating. I've often daydreamed many of the planning concepts that you illustrated today, in particular the house fronting on greens idea. I also thought that maybe a 'greenway street' of some sort -- that might double as an infiltration area. Anyway, at my age I don't figure I'm going to establish myself as a conservation land planner, so guess I'd better stick to my water resources engineering."
--David Venhuizen, P.E. Austin, TX
"I can truly say that, without the requirement for CM credit, I would have missed a wonderful day-long experience. For me the real shocker came in the afternoon. I left the world of public planning 30 years ago after earning a MSCRP from the University of Texas, As a charter member of the AICP, while a student we were privileged to listen to lectures from Stuart Chapin, Buckminster Fuller, and Ian McHarg, and your lecture was as impressive as any of those. I hope you inspire a new generation of students."
--John Higdon, AICP, Higdon Development Co., Austin, TX
"The Reclaiming the Commercial Strip workshop was a huge success! It's difficult to say if our capacity attendance and active audience participation was due to the timing of the topic relative to local development trends, your enthusiasm of your presentation, or their anticipation based upon your very popular 'Conservation Subdivision' presentation last year. No matter what the reason both the private and public sectors are now talking about the same vision for the community and it looks like we're entering into a concerted era of enlightened development…or, better put, re-development!"
--Steve Ribble, ASLA, CLARB, Ames A/E, Bangor, Maine
"After hearing Randall Arendt's presentation on Highway Commercial Corridor Redevelopment Design, I can confidentially predict that if all towns followed these guidelines and philosophy, the quality of life throughout the country would improve, followed by immeasurable positive effects. Mr. Arendt offers towns a tremendous 'return on investment'."
--Norman B. Peck III, Zoning Commissioner 1988 –Present, East Lyme, CT
"Thank you for your visit to Walker County and your outstanding slide lecture on the Highway 27 Tourist Corridor Development and Design Guidelines, which presented us with many very innovative and practical ideas. When some of the surrounding towns learned you were coming to Walker County, they asked if they, too, could attend your workshop with us, as they had been impressed with your previous work with them.
Your talk was very well received and we have had many requests for the DVD you provided, as well. We look forward to sharing this excellent information with the cities within our county, and working with you on future projects.
Walker County based much of our new land-use plan on the design principles described and illustrated in your earlier presentation on alternative ways to develop residential properties and green space subdivision. We have been identified as a progressive community within the State of Georgia, and I have received several appointments to state programs based upon our wisdom in soliciting your guidelines in 2001."
--Bebe Heiskell, Sole Commissioner of Walker County, Georgia
"It was important to have Randall's expertise regarding commercial corridor development at our regional Build Smart Summit, attended by 180 P&Z officials from central MN (including , City/County elected officials, realtors, business reps, tribal reps, planners, developers, and architects).
Through Randall's presentations we were able to identify many land-use opportunities for all areas of our region and we appreciated that the message contained positive, pragmatic solutions.
And, as the event coordinator, I appreciated Randall's attention to details.
Following our Summit I've received several calls from groups who would like to bring Randall back, and I expect that we will be working with him again."
--Cheryal Lee Hills, Executive Director, Region Five Development Commission, Staples, MN
"Thank you for visiting Chestertown. Your presentation Reclaiming the Commercial Strip: Toward a More Sustainable Future for our Gateway Approaches was timely and very well received. As always, your images and commentary were both entertaining and thought provoking. The ideas presented are beneficial to both small towns and larger jurisdictions."
--Gail Owings, Director, Kent County (MD) Planning, Chestertown, MD
"Your recent community training workshop for Chautauqua County was extremely well received. People became really involved in your presentation and asked many good questions.. Participants particularly liked your method for converting them, slowly over time, into attractive and successful mixed-use corridors through good design."
--Terry H. Martin, Ph.D., Consultant to Chautauqua County (NY) Planning Department
"As Polk County is taking steps to include conservation planning principles into our local planning process, Randall Arendt's recent presentation at our Twice Green workshop was timely, informative and inspirational. He provided practical examples on how communities can preserve natural areas and open space, while growing in a quality manner. This was a tremendous help to our efforts to build support for conservation planning. We are now confident that we can craft a 'win-win' situation for future development."
--Tom Deardorff, Growth Management Director, Polk County, FL
"Randall Arendt has been a repeat guest of the Village of Fontana over the past seven or eight years, and each time he visits our community, he leaves it with a renewed sense of vision and purpose. During his most recent stay, community residents, Village officials, and business leaders were energized by Randall's presentation on Reclaiming the Commercial Strip.
It is difficult to put into words just what it was about the workshop that made it such an effective experience for us. All I can say is that Plan Commissioners and Board Members still reference that night back in May, over six months later.
The images in the slideshow provided a very enjoyable and readily understandable learning experience, easily more effective than a professorial lecture on the "Rights and Wrongs" of commercial development.
Photos of our own community, taken by Randall as he toured the Village prior to the workshop, were seamlessly integrated into the presentation and stimulated the audience to engage in meaningful discussions about what we were doing right and where we needed to improve. Perhaps the most enduring benefit of this experience was the increased ability of Village leaders and staff to describe and define the type of commercial re-development they wish to encourage, as opposed to the old standby 'I'll know it when I see it'.
I strongly suggest that any community looking to reinvigorate their out-dated commercial areas invest in Mr. Arendt's seminar."
--Joseph McHugh, Executive Director, Community Development Authority, Fontana, WI