Envisioning Better Communities

Seeing More Options, Making Wiser Choices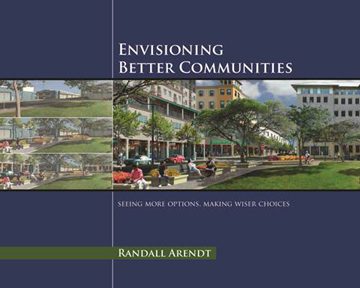 This new Planners Press book from the APA is about seeing familiar things in unfamiliar ways. The wide array of pictorial examples helps readers to envision how their community could evolve in ways that would positively re-inforce its best aspects, and how local land-use regulations could stem the steady erosion of community character.
Nearly 600 color photographs and drawings on 240 pages illustrate positive and negative examples of residential, commercial, industrial, and mixed-use development. Presented in a reader-friendly writing style, it translates technical aspects into easily understandable language speaking to the concerns of volunteer members of local planning boards and commissions.
Envisioning Better Communities, Randall Arendt's sixth book, is intended as both a thought-provoking read and a handy reference for use at meetings with applicants, helping staff and officials suggest better ways for new development to be sited, designed, landscaped, and integrated into the community fabric.
It brings together a wide array of progressive ideas:
Conservation Design -- to protect land as permanent greenbelts and greenways
New Urbanism -- to create walkable, mixed-use communities
Form-Based Zoning –- locating various building types appropriately according to scale and massing
Low-Impact Development -- to reduce the negative effects of new construction, particularly involving stormwater infiltration.
These four approaches are treated together, unlike in other publications, as the author believes the best results often result from hybridizing related techniques, as exemplified in the Pine Hills community in Plymouth, Massachusetts, designed by Sasaki Associates (shown below), where two-thirds of the property has been preserved by building compact neighborhoods and mixed-use centers.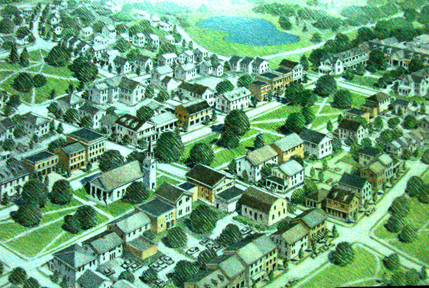 Examples illustrate practical, feasible solutions to common problems -- solutions that developers and local officials can work together to effect in their communities.
Part 1 speaks to the challenge of conserving inter-connected networks of permanently-protected open space, following easy-to-use techniques with proven track records, supplementing the more challenging approaches such as TDR's, PDRs, and Urban Growth Boundaries (which typically take considerably longer to implement, in most states).
Part 2 describes the technique that is the easiest and most achievable for towns and counties on the metro-edge: Conservation Subdivision Design (which has enabled Hanover County VA to protect 5000 acres of land within the last decade, at no public cost, nor at any sacrifice to landowners or developers).
Part 3 illustrates over twenty design techniques to improve neighborhood livability, based on historical examples and recent experience with New Urban design.
Part 4 details ways in which established town centers can be improved,based on the author's experience administering a downtown historic district in Lowell, Massachusetts.
Part 5 provides readers with a cornucopia of ways to prevent highways from becoming unattractive, dysfunctional commercial strips and to use the process of progressive redevelopment to gradually transform already-blighted areas into economically vibrant, mixed-use districts.
The appendices contain articles, model ordinances, links to recommended design guidelines, and a detailed list of suggested further reading.
Envisioning Better Communities provides readers with a highly visual ready-reference for addressing a wide spectrum of issues affecting how their communities look and function, whether their concerns involve protecting open space, providing attractive, livable neighborhoods, strengthening and rejuvenating downtown centers, and/or dealing with the decades-old legacy of unsightly and dysfunctional highway strips. The book treats this material from the viewpoint of local officials and interested community residents who often share similar goals but do not yet have the length or breadth of experience to know how to get there. It is an equally valuable resource for staff planners, helping them explain better approaches to applicants, commission members, and citizens. Readers learn about impressive results that have been achieved in a variety of other communities, broadening their understanding of what could be accomplished locally with imagination and improved land-use standards.
Target Audiences
Volunteer members of local planning boards and commissions, and their professional staffs, in growing communities on both sides of the metro-edge, are the primary audiences for which this book was written.
Other target audiences include:
Developers of residential, commercial, industrial, and mixed-use projects.
Development and design communities, because there is a real dearth of practical, reader-friendly books focusing on the design aspects of land-use planning, and this volume addresses that gap.
Architects and Landscape Architects interested in community planning, or in creating site designs for clients, will find a number of design approaches that they might either learn from, or use when discussing their designs with their clients and with local officials. They too will find the ready-reference aspect of the book to be very helpful.
Civil engineers could benefit greatly for similar reasons. The more progressive ones could cite the book in discussions with clients or officials. Others in the profession might learn new ways to expand their design capabilities – or come to appreciate the value of collaborating more closely with landscape architects and physical planners, particularly at the conceptual design stage.
Interested citizens, realtors, bankers, members of local land trusts, and chambers of commerce.
University students at the college and graduate school levels. If APA state chapters are involved in promoting enrichment courses for secondary school students, this would be appropriate for those students, as well.
Pre-publication Praise for Envisioning Better Communities
"Few activities affect more powerfully the quality of life than the elementary design of our communities, and the way they are blended with the natural environment. Randall Arendt has provided the rules to combine this vision with attainable goals."
--Edward O. Wilson, Pellegrino University Research Professor, Emeritus, Harvard University, author of Biophilia, Naturalist, Sociobiology, On Human Nature, and The Future of Life
"Envisioning Better Communities reminds me of a technicolor version of Christopher Alexander's Pattern Language, and I believe is a reference equal to that work. Because the procedures, logic, and graphics are well constructed, this book will appeal to a wide audience by virtue of its easily understood principles and reasoning. This book has real value in its graphic examples and diverse location references. I can imagine many schools of planning and design flocking to have this text in their libraries and the faculty using this text in their studios."
--Prof. Jon Rodiek, Texas A&M University, and Editor of Landscape & Urban Planning
"This is precisely the kind of tool local planners need. Most of us know in our gut what kind of communities we'd like to live in; this helps make it clearer what needs to happen for those wishes to come true."
--Bill McKibben, author of Deep Economy, The End of Nature, and Earth: Making a Life on a Tough New Planet
"Local officials and planners, in addition to developers and interested citizens, will find a true cornucopia of practical ideas for helping their communities grow with sense and grace. With its numerous color illustrations and reader-friendly text, this book will become an extremely useful ready-reference to practitioners in towns and counties on both sides of the metro-edge, whether dealing with new sites or infill and redevelopment situations."
--Judy Corbett, Executive Director, Local Government Commission, Sacramento CA, author, co-developer of the Village Homes sustainable community in Davis CA, and former CNU Board Member
Ordering Information
To order copies of this book, please consult the following link to the website of the American Planning Association: www.planning.org/store/product/?ProductCode=BOOK_A64811
Detailed Outline of Contents
Preface
Introduction

Part One: Balancing Development and Conservation through Community-wide Planning
Introduction
The Transect – A Schematic Paradigm
Village Expansion: Filling in and Rounding Out
The Status Quo of "Doing Nothing"
Build-Out Maps: Seeing the Future
Community-wide Map of Potential Conservation Lands
The Potential for Protecting Interconnected Networks of Open Space
Part Two: Conservation Subdivision Design -- Recommended Procedures
A Constructive Critique of Outmoded Subdivision Procedures
Context Map
Existing Resources and Site Analysis Map
Site Visit
The Four-Step Design Process
Golf Course Development Analogy
Sketch Plan Overlay Sheet
Residential Hands-On Design Exercise
The Existing Resources/Site Analysis Map & Site Walk as a Foundation for Sketch Plan
Woodland versus Farmland Protection
Applying Conservation Design Principles to a Site in Franklinville NY
Using Aerial Photos in Site Design
Using Conservation Design to Protect Natural and Historic Resources
Conserving Ephemeral Wetlands—Vernal Pools
Conserving Historic and Cultural Features
Conserving Orchards
Conserving Meadows
Conserving Cropland
Creating Vineyards, Almond Groves, and Edible Landscaping
Creating Community Gardens, Community-Supported Agriculture, and Foraging
Conserving Woodland Habitat
Conserving Public Viewsheds
Creating Footpaths, Bikeways, and Greenways
Creating a Nursery Business
Creating an Equestrian Business
Restoring Wetlands and Fisheries
Conserving Lakefront and Riverfronts
Economic Benefits of Conservation Design
Conclusion
Part Three: Residential Neighborhood Design Principles
Growing the Village
Blending Conservation Design with Traditional Town Planning Principles
Crescent and Closes
Greens and Greenlets
"Attached Greens"
Internal Greens
"Bungalow Courts" or Cottage Greens
Positioning Greenspace in Visually Prominent Locations
Flag Lots
Hedgerow Medians
Greenway Streets
Basins for more than Merely Water
Locating Individual Septic Drainfields within Conservation Areas
Preserving Roadside Vistas
Improving Roadside Houselot Development
"Country Lanes"
Varying the House-to-Street Orientation
Maintaining Modest Front Setbacks
Siting Homes Off-Center
Avoiding Protruding Garages
Accessing Homes via Back Lanes (or Alleys)
Recessing Front-Loaded Garages
Side-Loading Garages
Addressing Challenges Posed by Sloping Terrain
"Detached Townhouses"
Invisible Affordable Housing
Mandatory Inclusionary Housing
Semi-detached Homes
Multi-Family Residential
Street Design Considerations
Maintaining Traditional Street Patterns
Shade Trees along Streets
Traffic Calming and Neighborhood Roundabouts
Cul-de-Sacs
Sidewalks
"Tweetens" (Mid-Block Connectors)
Street Pavement Width
"Yield Streets"
Part Four: Improving Downtown Appearance and Viability
Design Principles
Open Space Amenities: Greens, Broadened Sidewalks, and Bikeways
Build-To Lines
Alcoves
Mixed Uses and Minimum Height – Housing and Offices above Retail
Screening Parking Along Adjacent Streets
Hardscaping the Outdoor Room: Curbless Streets for Pedestrians
Learning from Failed Pedestrianized Streets
Pedestrian-Friendly Infill
Reducing Massing
Historic Building Rehabilitation
Inexpensive Fixes
Using Historic Photos
Plywood Choices and Concrete Plinths
Stall Risers
Shop Signs
Transom Windows
Retaining Architectural Trim Features
Part Five: Transforming Highway Commercial Strips into Mixed-Use Centers and Corridors
Introduction
Demolition: Opportunity for Positive Change
Re-organizing Development Intensity along Highway Corridors
Reclaiming the Strip
Modern Highway Roundabouts
Maximum Front Setbacks, Rear Parking
Re-developing Failed Shopping Centers
Modifying Existing Buildings and Parking
Incorporating Historic Buildings into Roadside Development
Gateways and Centers
Open Space as a Gateway Concept
Big-Box Retail along the Gateway
Landscaping Light Industry along the Gateway
Shade Tree Planting along Highway Corridors
Highways through Village Centers: Example from the Heartland
Chains and Franchises
McDonald's: Definitely Able to Adapt
Arby's
Dunkin' Donuts
Dairy Queen – Minimum Building Size
Taco Bell
Drug Stores
Makeovers
Auto-Related Uses
Car Washes
Auto Body Repair Shop
Car/Truck Sales Agency
Quick Lube
Tire Sales and Repair
Muffler Replacement
Gas Station Canopies
Pump Location
Gas Price Signage
Signs with Moveable Lettering
Miscellaneous Land Uses
Hardware Stores
Self-Storage Facilities
Hair Salons
Churches
Minimum Building Height
Multi-Level Buildings on Sloping Sites
Landscaping (Retaining Existing Trees)
Landscaping (Planting and Maintaining New Deciduous Canopy Trees)
Preventing Tree Butchery
Planting Evergreen Trees
Walkways and Greenspace in Commercial and Mixed-Use Developments
Courtyards and "Outdoor Rooms"
Landscaped Berms
Stormwater Management Issues
"Rain Jails" versus Wildlife Ponds
Rain Gardens
Light Pollution and Dark Sky Issues
Industrial Park Site Design Choices
Demonstration Sites within Chautauqua County, New York
Westfield Industrial Park
Ellicott Highway Corridor "Business Park"
Conclusion: Where to Go from Here
Appendices
Image Preference Surveys: Purpose, Process, and Results
A Case Study from Washington State: Making Your Design Review Process Defensible
Road Access Control Ordinance
Birmingham Crossroads Overlay District Standards, Milton, GA
Suggestions for Further Reading
About the Author
Professional Education, Experience and Achievements
Background
Art Credits
Index